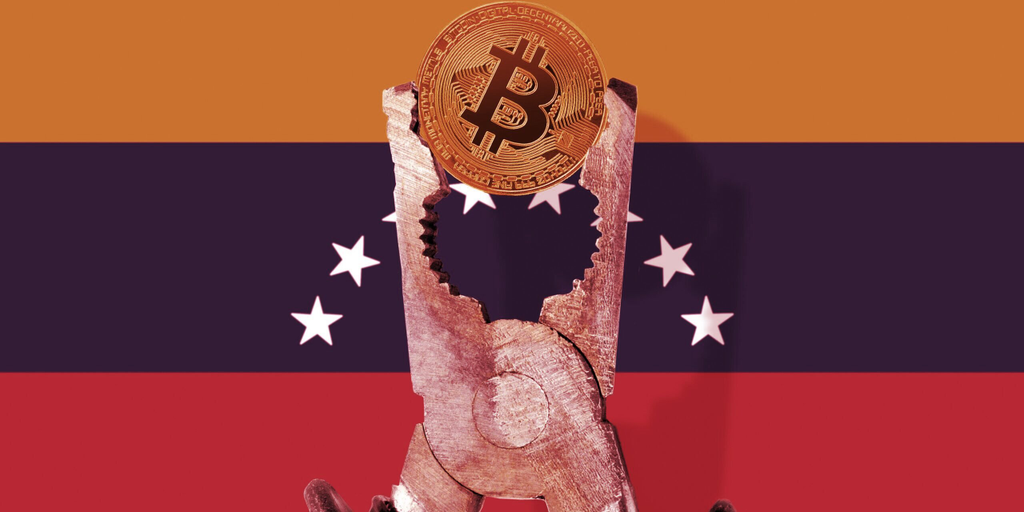 From crypto paradise to crypto chaos—the situation for cryptocurrency enthusiasts in Venezuela has been anything but good in recent days.
Following the arrest of Joselit Ramirez—Venezuela's Superintendent of Cryptoassets—and President Nicolas Maduro's order to restructure the country's crypto regulatory agency, every day has brought bad news for the national crypto ecosystem.
Most recently, the new Superintendent of Cryptoassets is apparently unhappy with the way the industry has developed and ordered the closure of all cryptocurrency exchanges registered in Venezuela with Venezuela's National Superintendency of Cryptoassets "Sunacrip"—the country's crypto regulator.
Although the drastic move has not been officially confirmed, Venezuela's National Association of Cryptocurrencies told to Decrypt that such actions are taking place, as the country advances an anti-corruption investigation that has so far cut off the proverbial heads of Joselit Ramirez and his political protector Tareck el Aissami, the Minister of Energy and Petroleum.
"We believe that private companies should not be blamed for what is happening inside the regulatory body and that we should promote the full activation of all cryptocurrency operations (in the country)," Jose Angel Alvarez, Asonacrip president, told Decrypt.
Alvarez added that "we are preparing a list of propositions to be delivered soon to Sunacrip and Dr. Anabel Pereira." Anabel Pereira is the new head of Sunacrip.
Asonacrip opened a public survey so that cryptocurrency enthusiasts in Venezuela can provide input on the recommendations that will be delivered to the Sunacrip intervention board.
Just before the crackdown, it was also announced that Sunacrip also ordered the closure of large cryptocurrency mining farms operating in several states in Venezuela.
"Indeed, at the beginning of the week in the state of Carabobo, all the farms were ordered to stop, which concerns us as a community since some affiliates are being affected by the measure," Alvarez said.
#URGENTE nos confirman que apagaron todas las granjas permisadas y con licencia del Estado Lara. Recordemos que estas empresas pagan mes a mes impuestos y generan empleos. Hacemos llamado a @sunacrip_ve para la pronta reactivacion.

— Asonacrip (Asociación Nacional de Criptomonedas) (@AsonacripVe) March 24, 2023
Asonacrip called for a review of these actions, noting that the vast majority of the mining farms were operational and complied with all the necessary permits. "We believe that although there is a situation in the superintendency, it should not affect the operations of all affiliated farms at the regional level," Alvarez told Decrypt.
A New Era for Cryptocurrencies in Venezuela?
The recent course of events represents a 180-degree turn from previous years when President Maduro called for the promotion of cryptocurrencies as tools to reactivate Venezuela's economy.
During this period, the government legalized crypto, created its own official cryptocurrency (The Petro), established a regulatory framework for mining, institutionalized the registration of cryptocurrency exchanges, and began efforts to reduce the persecution of traders and miners who were seen as operators in the parallel currency market.
However, the centralization of power in Sunacrip also opened the doors to new forms of corruption. Currently, the participation of Sunacrip as an organizing node in a diversion of funds from undeclared oil sales is being investigated. There are already reports of irregularities circulating on social media, such as high-ranking government executives owning cryptocurrency mining farms, influence peddling, arbitrary detentions, and equipment confiscations.
What's more, during this period, the Petro was changed from a decentralized, auditable, oil-backed, Ethereum-based token to a centralized, non-auditable token with its own blockchain and no real backing in tangible oil.
According to Venezuelan lawyer Ana Ojeda Caracas, the measure is apparently temporary. However, Sunacrip's silence only serves to fuel uncertainty in the Venezuelan crypto scene.
Stay on top of crypto news, get daily updates in your inbox.